October 31, 2019
There are a few things one can expect with a Thanksgiving feast:
Turkey
Rich, buttery mashed potatoes
Crumbly, moist stuffing
Deep, ruby-colored cranberry sauce
Gravy you can drown everything in
A feast meant to be shared with many, right? Only your picture doesn't look the same.
You're only cooking for two (or a few) people — you and your boyfriend, you and a small group of friends, or just you and your bottomless stomach?
Saving money is a priority.
Just last year, I missed a Thanksgiving trip to South Carolina (retail life) and was left to prepare a last-minute menu for Thanksgiving dinner, for just me and my boyfriend.
We stood above the freezer in Whole Foods, gawking at the cost of a whole turkey; most birds stemmed upwards of $60 and weighed about 10-15lbs each.
There's no way. There's no way.
Does anyone really want to bare the weight financially of a 10-lb bird? No matter how much you love turkey, it's hard to stomach.
But having turkey is a must! But what's a better alternative that's just as fitting for the holiday?
A cheaper, more accessible alternative to cooking an entire turkey is — ding, ding, ding– turkey breast.
We know how important having turkey is, so we're not trying to push you off that bandwagon.
Turkey breast is the centerpiece you need to make your Thanksgiving dinner worthy of a photoshoot.
So Why Turkey Breast? How Many People Will Turkey Breast Feed?
Think ultra-tender, succulent, juicy meat as the centerpiece of your table? Without the weight of a 15-lb bird and less cooking time — most recipes only require less than an hour and a half in the oven.
The price of a turkey breast, too, is significantly lower than buying a whole turkey.
Depending on how many your feeding, a whole turkey can weigh between 15-20 lbs and cost anywhere from $3.99-9.99 per lb.
For one person, budget-wise, that's a hefty debt to take on.
A turkey breast weighs and costs less than a whole turkey per pound ($1.89-7.99 depending on the brand and quality) and can feed four people with leftovers for a turkey sandwich the next day.
Thanksgiving last year, there were more than a few servings leftover to add between parker house rolls and lay over the top of leftover mashed potatoes.
We were almost sick of having turkey breast!
How Do I Prep Turkey Breast?
Most recipes call for a trussing — tying up the bird, often the wings and legs — for more even cooking.
With that said, the most challenging part about preparing a turkey breast is removing the breast bone. The sharpest knife in your kitchen may still struggle to cut around the small areas, shards of the turkey's breast.
Sidenote: if all your efforts fail, leave the bone-in or have your local butcher or grocery store remove it.
But with a little bit of patience and know-how, even as an amateur, you'll do just fine.
If you have experience deboning, this task shouldn't take more than 10 minutes to get all of the little bones out.
Just take your time, and if you become frazzled, here is a video found on Youtube to help you navigate the waters.
Once you remove the bone, the hardest part is DONE– a round of applause for you!
The fun part begins, time to give your turkey some personality, i.e., SEASONING.
Salt and pepper work just fine here, but so does roasted garlic and herb butter, or a herb trinity of sage, rosemary, and thyme.
Keep reading for a few GREAT recipes for guaranteed success.
How Do I Cook Turkey Breast to Pure Juiciness?
Turkey is infamous for going dry, and turkey breast is more prone considering it is white meat, not dark.
When you have guests over, you don't want to be the talk of the office on Monday.
But there are a few ways to avoid it.
My number one suggestion would be to cook your bird's breast sous vide, low and slow in a temperature-controlled water bath
The best recipe I've found– hands down — is Serious Eat's Sous Vide Turkey Breast w/ Crispy Skin.
The recipe and method are straightforward and comes with the bonus of gravy that is a stream of everything good in life in a matter of 30 minutes.
This gets the That F Word stamp of approval for not only simplicity — just a hefty dosing salt, pepper, and oil– but for ridding beginner cooks of their biggest fear: DRY turkey meat.
And the crispy skin is truly the prize: crunchy, chewy, and savory.
The only con: you have to own a sous vide device, Joule or Anova.
But if you do have one or the other, the meat turns out luscious, moist, and tears apart as easy as a warm parker roll.
You get the crunch without the floppiness of jello or the chewiness of gum, especially since turkey skin is a bit thicker.
But like most meats, turkey breasts can be prepared in several different ways, and not all of us have sous vide devices.
Roasting— a cooking method where dry heat envelops the food– is a simpler and easier method yielding similar results to sous vide with a watchful eye.
Here are a couple of roasted turkey breast recipes to grace your table:
Fall Harvest Roasted Turkey Breast from Eating European
If you're looking to have the full aroma of Fall, look no further. Cranberries. Sage. Thyme. Rosemary. Apples– AND a honey-apple cider GLAZE!
I love the layering of flavors and how it lends complexity to the taste of turkey. And the presentation is gorgeous. Plus, Edyta says this is "the juiciest turkey that I've ever made in the oven."
Herb-Roasted Turkey Breast from Barefoot Contessa
Food Network favorite, Ina Garten's blog, Barefoot Contessa, features a classic pairing of herb-loaded flavor — sage, thyme, rosemary — for a traditional, ultra-tasty turkey breast recipe.
A recipe guaranteed to satisfy your small party of guests and be the perfect accompaniment to the velvety gravy and a plate of fluffy, mashed potatoes.
Garlic Herb Roast Turkey Breast from The Mediterranean Dish
What separates this rendition is obvious: roasted GRAPES, a must-try for an unassuming sweetness. Suzy of Mediterranean Dish adds Mediterranean flair, with grapes and featured spices paprika, allspice, and nutmeg.
If you're looking for a recipe that strays from the conventional, this is for you!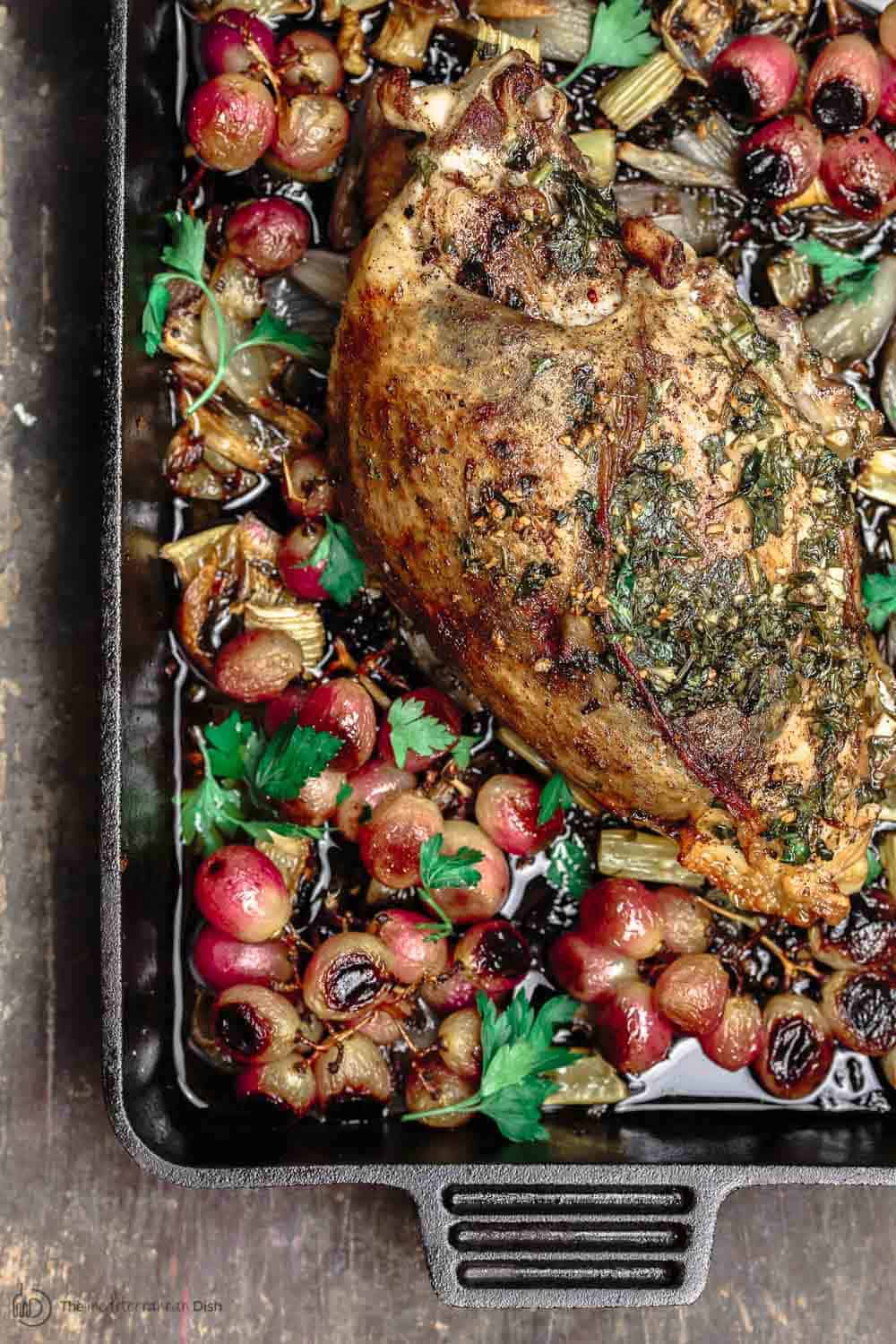 Herb-Roasted Turkey Breast from The Taste of Home
Culinary heavyweight, Taste of Home's herb-roasted recipe is the epitome of a last-minute-pull-together meal. Simple ingredients and easy to prepare, this recipe call for ingredients you likely already have — lemon juice, garlic salt, pepper, and traditional herbs — and if not, are inexpensive to pick up at the grocery store.
You're all set!
Let me know in the comments how you are fashioning your holiday feast.