November 16, 2019
When Popeye's released their limited-time-only chicken sandwich on August 12th, social media sparked an all-out war against Chickfila's classic chicken sandwich.
Numerous video posts flooded Instagram's and Twitter's of eaters judging and comparing, and yapping about Popeye's new menu addition.
This momentum turned into a violent whirlwind of curious spectators running to their local Popeye's to get a taste of the sandwich and for some, to fight other locals.
AND begged the question, which is better: Chickfila or Popeye's?
As reported by BET, even A-list celebrities couldn't get instant access to the viral sensation; Oprah's best friend and accomplished journalist, Gayle King, tried 15 locations before finally driving home with one.
" We drove to 15 locations in the city. Could not find it," she revealed in an Instagram post.
In the weeks following — don't act like you don't know– the sandwich would sell out at all locations; weeks ahead of schedule.
Fast-forward to its second menu appearance on November 3rd, and the sandwich continues to garner the attention of social media and news outlets.
And unsurprisingly, the tenacious craze has also returned: lengthy lines; a man in Oxon Hill was fatally stabbed for allegedly cutting a line specifically for the sandwich; a woman ramming her Mercedes to merge into a drive-thru line; WWE matches between customers and employees and plenty more foolery to digest.
Are people losing their minds? Or is it just the MSG?
Some, most recently, have lost their appetite: a New York man posted to Twitter claiming to have found a half-smoked joint, i.e., a marijuana blunt in one of two of the sandwiches he ordered from the New Orleanian chain.
Reports from TMZ showed an iPhone snapshot of employees preparing chicken sandwiches over a trash can in Fairfax, VA.
Eww.
No worries, the manager submitted a statement alluding to an empty trash can and promptly supplied a new preparation table.
But the lack of customer service and cleanliness at some locations (allegedly) is no match for the rage the crispy, fried chicken sandwich has brought to the fast-food chain.
With all the hype surrounding Popeye's, however strong, will the roar continue with a new menu item into the dead of winter?
Or will the sandwich continue to have a significant stake in Popeye's pop food culture relevancy? And how long will it all last?
Who knows?
But Popeye's isn't twiddling their thumbs waiting to find out.
In a news report published by Delish, for a limited-time-only, the Lousiana-based chain has released an alcohol-loaded, bourbon fudge pie to the masses as a lovely accompaniment to their ultra-popular chicken sandwich.
For $2.49, and working legs, you can mozy on over to your local Popeye's and have the sweet taste of fudge any day of the week.
While the boozy pie doesn't seem to be making as big of a wave as their counterpart, there's much to be enjoyed.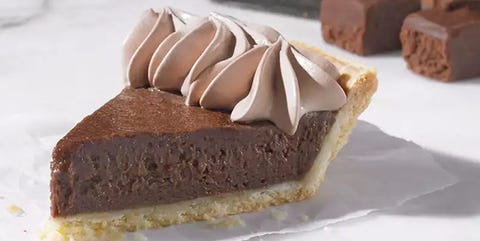 Before long, news outlets and social media influencers will take control of the narrative.
News outlets — like local stations in Fox News— are slowly picking it up like the chicken sandwich a little hope will prevail.
With confidence, social media will propel forward Popeye's second attempt at a smash hit.
We'll just have to wait and see what the season brings the infamous fast-food joint.
Are you hooked into the Popeye's craze? Talk to us in the comments!