January 6, 2020
There's nothing more nostalgic than an entire catalog of Disney movies at your disposal, and if you haven't already heard, it's here!
The Disney + app is here and has been for more than a month.
Launched on Nov. 12th, and filled with all the classics you — and your friends, your parents, and your grandparents— grew up watching from Disney and it's subsidiaries (i.e., Pixar, Marvel, NatGeo and Star Wars).
Cinderella.
Oliver and Company.
Smart Guy.
BOY MEETS WORLD! Toe-pan-gah.
Finding Nemo.
Sleeping Beauty.
Snow White & The Seven Dwarfs.
That's So Raven.
Andddd..somuchmore.
And of course, recent blockbusters like Marvel's Avengers: End Game, The Incredibles, and even Frozen are all featured too.
News of Disney's digital positioning has slowly ignited a series of eruptions in various corners of the internet.
An article published on CNET described the app as being "The Streaming Service for the Young and Young at Heart."
And like the rest of the population whose childhood was marked by Disney classics, I, too, became sucked in an unrelenting, aggressive vortex of nostalgia.
The generosity is overwhelming because the Disney vault is endless; the streaming service is 500-movies-and-7,500-tv-shows-endless, according to CNET.
What should I watch?
When the possibilities are endless and your time infinite, how so ever will you choose?
As you ponder over different movies, old childhood memories unpack like a schooler's lunch.
Somehow, the two become connected: chatter about what we used to do, used to eat and the movies and shows we loved morph into a tight embrace.
So, in the name of Disney here's a list of some foods and drinks we enjoyed as youngins'.
And movie pairings with some of the classics!
1. Nesquik Chocolate Milk
Nesquik has been "inspiring smiles for 70 years" because in between cartons of stale chocolate milk served during lunchtime, there was Nesquik. The ultra-chocolatey, velvety milk of your childhood, pre-teen dreams.
Suggested Pairing(s):
2. Mother's Cookies Frosted Circus Animals
As seen in 1983's Scarface, Mother's Cookies has a long history. First, being uber-popular in the devoted-community of San Francisco to Oakland, CA. Then, sealing their brand in success, producing more than 17 million cookies in 2002 to manage demand.
Suggested Pairing(s):
Watch Now, Out of the Box: Do you remember this show!? Neighborhood kids join together in an imaginary box to sing songs, do crafts and play games. We all, at one point, believed a plain brown box was magical.
3. Pringles
Snack History describes these crispy potato chips as "saddle-shaped," but if anything, Pringles is known for its cylinder-shaped can, accessorized with a lid, and to prevent any damage to the chips.
According to the article, the Pringles brand we knew as the popular chip of the late 90s, was previously an underdog– doing so poorly of a run in the 1960s, they were almost dropped from P & G.
Fortunately, the brand rose to the top of the brand roster, generating revenue to the tune of $1 billion dollars by the end of the 90s.
Suggested Pairing(s):
Watch Now, A Bug's Life: Those darn grasshoppers! But not to worry, a daring little ant rallies a group of soldiers who will stop at nothing to save their home from tyrannous grasshoppers.
Watch Now, Hercules: Hercules is a seemingly, ordinary teen from an extraordinary world — or at least he soon finds out as the son of God, Zeus, guaranteeing him a place on Mount Olympus. Abandoned as an infant, he develops from an awkward, linky teen to a strong, resilient hero finding love and battling Hades all while finding his way back home.
Watch Now, Remember the Titans: Starring Denzel Washington, in the real-life remake, follows the hardships and triumphs of a newly-appointed football coach striving for racial-harmony, for a newly-integrated unit.
A tearjerker, indeed.
4. Snapple Drinks
When Snapple drinks burst on to the scene as a healthy alternative to flavored drinks in the 1990s, the brand sealed their fate in pop culture. There were the classic comedic commercials highlighting Snapple lady, Wendy, reading customer letters followed by a sketch.
In the 2000s, commercials featuring personified Snapple drinks continued comedic commercial superiority.
Remember any of these?
Suggested Pairing(s):
Watch Now, Dr. Dolittle: a Disney comedy starring comedic rockstar, Eddy Murphy as a dedicated doctor. Who. Also, is an animal whisperer?
Watch Now, The Emperor's New Groove: a personal favorite! It's the story of self-centered, secretly-despised Emperor Kuzco, who turned llama that creates an alliance with a generous peasant to find his way back to his old life.
A perfect selection for quotes like this: "This is Yzma, the emperor's advisor. Living proof that dinosaurs once roamed the Earth." – Kuzco
Watch Now, Sister Act: Whoopi Goldberg stars as a "low-rent lounge singer" who finds solace in a convent in an attempt to escape the fury of the mob. You get music, comedy, and crime all in one sitting!
5. Sprite Remix
Sprite Remix came, conquered, and shortly thereafter died off the market to the surprise of Sprite enthusiast. Complex Mag featured the sugary drink as part of some of the best snacks we lost during the '90s and early 2000s.
But, of course, all good things must come to an end and sometimes earlier than we expect.
Suggested Pairing(s):
Watch Now, Cheetah Girls: "I don't wanna be like Cinderella, sitting in a dark, cold, dusty cellar waiting for somebody to come and rescue me." The movie — adapted from the book– achieved mega-success its first go around, and in later movies. The fictional group, featuring Raven Symone and Adrienne Bailon, even became a reality with all original cast members before finally separating.
Watch Now, Peter Pan: If all good things must come to an end, Disney's 1953 classic, Peter Pan, was the epitome of this. At the end of the movie, we find out Peter Pan will never return to Neverland again, and Wendy is no longer going to be a child with whom he can escape with to a world of wonder.
6. Strawberry Shortcake Icecream
Hot summers; a sweaty shirt; a short sprint to the change jar — and then out the door after the ice cream truck– are the memories that stick when I think of Strawberry Shortcake Icecream.
Sure, you can still purchase these sweet treats at any Walmart, but who would want to pass up the nostalgia of having the bars in the summertime heat, from a rinky-dink icecream truck churning out the most rhythmic tune.
Suggested Pairing(s):
Watch Now, Princess Diaries: Mia Thermopolis goes from awkward, dorky-teenager to poise, and princess-like when she learns her long-absent, and now deceased father was Prince of Genovia.
7. Xtreme Airheads
Xtreme Airheads came about when regular Airheads just wouldn't cut it! The flavors were bold, exciting, and rivaled some of the best taffy-like candy on the market.
Suggested Pairing(s):
Watch Now, Smart House: This was one of my favorite Disney movies of the '90s! A computerized smart house turns into a tornado-causing, deranged mother.
8. Peeps
Peeps' origination dates back to 1953, but I have vague memories of the spongy, marshmallow treat present in Easter baskets, because, an Easter can't exist without the pillowy-hug-of-a-treat.
Suggested Pairing(s):
Watch Now, Thumbelina: This sweet tale of a minute-sized heroine seeking the courtship of a prince is one to make any 90s baby wish to be treated like a princess.
Watch Now, Humpback of Notre Dame: The tale of Hunchback of Notre Dame, is the story of a once solitary-confined Quasimodo search to find a true friend outside of the tower. It's a romance and feel-good-movie all bundled into one.
Watch Now, Cinderella: Who DIDN'T watch the blockbuster tale of Cinderella? Nursery rhymes were born from this feel-good classic — Cinderella dressed in yella', went upstairs to kiss a fella… — and the first-animated rags to riches story.
9. Uncrustables
What a genius idea! I use to love eating the sealed corners, but always hated when I reached the middle– too much jelly, not enough peanut butter.
But Smucker's Uncrustables — available in schools everywhere — solved a need for people who didn't want to do the dirty work of cutting the crust off of sandwiches.
Suggested Pairing(s):
Watch Now, Disney's Recess: Whose to say students can't create a separate code all enforced by a sixth-grader? This 1990's classic follows the stories of six fourth-graders who exist in a recess where everyone follows suit underneath a "microcosm of traditional human society."
Watch Now, Doug: In a series following Doug Funnier in his hometown of Bluffington, he uses a journal and his imagination to "navigate through tests of friendship, school, love and growing up."
10. Pop Rocks
Talk about fireworks in your mouth! Come on, admit it, you ate packs of these for pure entertainment.
According to Oldtime Candy, Pop Rocks was a total accident caused be an experiment by food scientist, William Mitchell, who was looking to create a soft drink.
Suggested Pairing(s):
Watch Now, Flubber: Rest in Peace Robin Williams. In 1997's Flubber William's plays Phillip: a man looking to an experimental jello-like goo to save his college and his wedding.
11. Flavor-Ice
When real icecream was too expensive and messy, Flavor-Ice was there to soothe us during all those hot summers riding bikes to literal nowhere. Think of it like a snow-cone in a slender convenient packaging.
No mess, no fuss.
Suggested Pairing(s):
Watch Now, Parent Trap: This movie is such a classic and made me envy the lives of twins, Annie — the proper Londoner — and Hallie — a free-spirited Californian. They meet at a summer camp, unexpectedly, and plot to bring their mum and dad back together by switching places. Meaning Hallie hangs out in London with her ultra-chic, wedding designer mum and Annie, with her Dad in a grand estate fit for a perfect summer, accessorized with a pool.
12. Scoobi-Doo Themed Fruit Snacks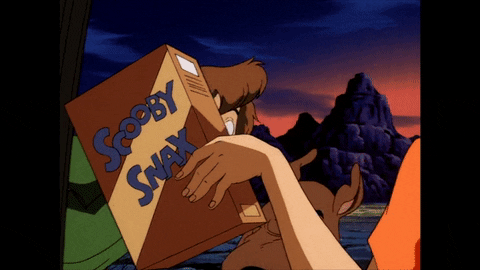 Something about Scoobi-Doo fruit snacks was so much cooler than the regular ole' Welches.
Watch Now, National Treasure: The first National Treasure with Nicholas Cage premiered in 2004, and I vaguely remember the plot, but nonetheless, a great choice for an action-packed adventure. Long-story-short, Benjamin Franklin Gates (some name, huh?) has two choices: steal the Declaration of Independence, or let it get into his enemy's hands.
Watch Now, Inspector Gadget: An action-packed-to-the-brim adventure transpires when a lowly security guard realizes his dreams as an "ultimate crime-fighting tool" in this 1999 classic.
13. Capri Sun
A staple in every kid's lunch box in the 2000s. Your field trip's and summer camp's most precious snack companion, and accompaniment to basic a ham and cheese sandwich without condiments: Capri Sun.
Suggested Pairing(s):
Watch Now, High School Musical: I never got into High School Musical on Disney, but to say this show wasn't omnipresent is an understatement.
Watch Now, Parent Trap: This movie is such a classic and made me envy the lives of twins, Annie, the proper-Londoner and Hallie, free-spirited Californian. They meet a summer camp, unexpectedly and plot to bring their mum and dad back together by switching places, meaning Hallie hung out in London with her wedding designer mom and Annie, with Dad in an estate fit for a perfect summer.
Butlers included.
14. Pizza Lunchables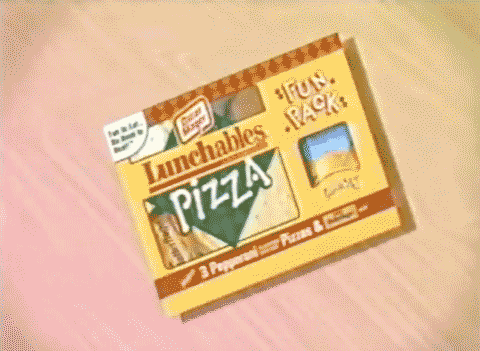 Before I fell in love with Digiorno's and fast-food franchises Pizza Hut, Papa John's and Domino's, and eventually abandoned all of those to eat mostly artisan wood-fired slices, there were pizza Lunchables: the unproblematic snack form of pizza.
No oven required, or maybe.
Suggested Pairing(s):
Watch Now, That's So Raven: I use to get home from school, knockout some homework and spend the rest of the night catching up on shows like That's So Raven and, of course, my all-time favorite Martin featuring Hollywood-heavyweight, Martin Lawrence.
Watch Now, Lizzie Mcguire: This Disney original follows the life of Lizzie Mcguire and the narration of her teenage life through an animated persona. At some point throughout your high school career, we all could relate to Lizzie Mcguire.
Watch Now, Even Stevens: Before Shia Lebouf was known for his iconic high-pitched scream in Transformers, he was the annoying, mischievous little brother to Ren on Even Stevens.
15. Planters Cheese Puffs/Balls
Cheese Puffs/Balls A.K.A Kid-approved Cookout Side-Dish
Finger-licking good! Because who could resist the airy morsels and cheesy taste of Planter's cheese puffs, and did we really have any other choice? These fluorescent-hued puffs were loved by almost every 90's kid up until their departure in 2006.
90's babies rejoiced for their return in 2018, and everyone is hoping the cheesy snack is here to stay.
Suggested Pairing(s):
(See Pizza LUNCHABLES Pairings)
16. Heinz's EZ Squirt Colored Ketchup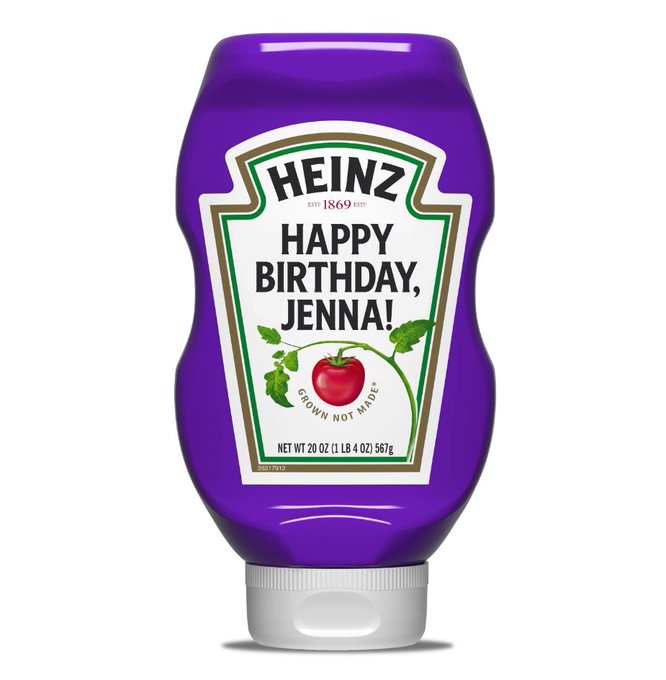 I remember briefly seeing Heinz's colored ketchup on Commissary shelves, but never took much interest outside of remarking that they were cool.
According to an article featured on F@st Company, Heinz's creation of brightly-hued ketchup saw a burst in popularity as a result of pairing a gooey-green color with the release of the tale about Shrek, a heroic, green ogre, but didn't have a recipe for sustainable success.
Hence, why we no longer see the selection of vibrant ketchup on grocery store shelves.
Suggested Pairing(s):
(See Pizza LUNCHABLES Pairings)
17. Koolaid in the Bottle
Who would waste time with the sugar packets when you can just by a 6-pack of Koolaid bursts? For every 90's kid, these drinks were a step above having a Capri sun in your lunch.
I've always loved these despite the little aftertaste.
The only thing that hasn't changed is those darn U-shaped, twist-off caps that prohibit resealing.
Suggested Pairing(s):
(See Pizza LUNCHABLES Pairings)
18. Gushers
General Mill's Gushers was one of the most delicious snacks of the 90s, mostly due to the fruity burst you get when you bite into it. Invented in 1991 with two flavors, Gushers originally didn't prove to be favorable with older adults but won over younger adults and, of course, kids.
Suggested Pairing(s):
Watch Now, Mary Poppins: If you really know Disney movies, then you know Mary Poppins ushered in generations of movies and was way ahead of its time. It's exciting to see the level of animation and visual effects accomplished in this 1964 story of a nanny who drops in to bring together a family with whimsical fun.
19. Ring Pop
Ring Pops have existed since 1976, and according to the owner, were invented originally to keep his young daughter from sucking her thumb.
But I just remember them as a convenient way to have a lollipop while still having two free hands!
Suggested Pairing(s):
Watch Now, Jack: In this 1996 film, Robin Williams is hilarious as a playful 10-year boy stuck in a grown man's body; it gets even more hilarious as he takes on 5th grade.
20. Bagel Bites
Bagel Bites may pair their cheese bite with dad jokes now, but back then, we paired these poppable snacks with Koolaid and sometimes even made an entire lunch out of them with chips, carrots, and celery sticks.
The nostalgia makes me want to rush to the store to buy these; they were so good!
Suggested Pairing(s):
Watch Now, Smart Guy: So there's a single dad who has three kids: a genius, a typical teenager, and a self-absorbed girly girl. Somehow, he seems to keep balance with all three. Oh, and then there's the clueless school jock Moe, who constantly gives comedic performances.
Watch Now, Boy Meets World: Possibly one of the most underrated shows ever produced, Boy Meets World is all about Cory growing up and discovering adolescence and then adulthood surrounded by friends, family, and all the drama school brings for young adults.
21. Yoplait's Go-gurt
Another super cool item to have in your lunch box, Gogurt, topped off a well-rounded meal without the mess of traditional yogurt cups. All you had to do was create a slit, and you had a quick slurp of strawberry Gogurt.
Suggested Pairing(s):
Watch Now, Finding Nemo: Okay, finding Nemo isn't that old, unless you were born in the '90s, you were probably in your teens and still watched this with your cousins. Anyway, the story is irresistible: a young clownfish, Nemo, has been swept away to a dentist's office, and his worrisome father, Marlin, pairs up with a forgetful, friendly fish who goes on an adventure to save Nemo and bring him home safe.
Watch Now, Tarzan: Another feel-good tale, and sort of sad one folks, but I digress. Orphaned at birth as a result of his parent's murder, Tarzan finds home with a gorilla who raises him to know all the ways of the jungle until he comes in contact with fellow humans and is tempted to seek a new life.
22. Kid Cuisine
Before I knew of Michelin-starred restaurants and Gordon Ramsay, and the like, I knew of Kid Cuisine: a microwavable, playful meal with 3- and 4-course offerings and Spongebob-shaped chicken nuggets.
The shape of the cartoon character always made the meal taste that much better!
Suggested Pairing(s):
Watch Now, Lady and the Tramp: Another Disney classic, a story of two social classes merging when pampered and primp cocker spaniel, Lady, and humble, friendly mutt, Tramp, find love. And, then, of course, there's the spaghetti scene.
My Date With The President's Daughter: This isn't on Disney Plus (shame on you, Disney!), but I just couldn't resist mentioning it.
The Cory's big brother from Boy Meets World, Eric, stars in this and is just as hilarious when he falls for the president's daughter. The movie follows an awkward, teenage love story as they go on side-splitting adventures to maintain their courtship.
[/et_pb_text][/et_pb_column]
[/et_pb_row]
[/et_pb_section]