February 4, 2020
When we think of Romantic Valentine's day dinner, often steak — plump filets, juicy, marbled ribeyes, and NY strips— and a bed of creamy potatoes are one of the first dinner ideas that come to mind.
But what if your date is vegetarian or doesn't like beef at all?
We've thought about you and created a list catered to solve your dilemma.
All there's left to do is start scrolling!
Below are 13 romantic Valentine's day dinner ideas that are just as comforting and pleasing as steak and potatoes. 
Poultry
Serious Eats
Chicken breast is possibly one of the most straightforward dinners, pairing well with practically any side dish. But you, my dear friend, you don't want simple. 
You want to take your week-day chicken up a notch to Valentine's day royalty.
You want to wow the socks of your date, or maybe something else. 😉
Serious Eats' pan-seared chicken breast with a fancy-schmancy, white wine sauce might do just that.
The ingredients are minimal, but the results: FANTASTIC.
Side Dish Ideas:
Cauliflower Mash
Roasted Carrots
Grilled (or roasted) Broccolini, with a dash of lemon
Vijaya Selvaraju
Vijaya's rendition of India's chicken tikka masala is as comforting as it gets for a night-in spent snuggling up next to your date. 
The dish features yogurt-marinated chicken and a little bit of lemon sauteed and sunken into a rich, creamy, tomatoey, curry sauce for the perfect dipping accompaniment to a garlic naan or over a bed of aromatic basmati rice.
Domestic Man
Domestic Man's Chicken Marengo is inspired by the story of Napoleon Bonaparte, who in June of 1800 led his troops to war against the Austrian army in Marengo, after salvaging what they could the chef created this dish.
The dish comes packed with a little bit of everything, including shrimp, two types of olives, white button mushrooms, and a little taste of white wine.
Pasta
Serious Eats
Show me a person who doesn't love pasta, and I'll show you a person who hasn't lived.
You: want a smooth, flavorful pasta recipe you can make from scratch.
Your date: enjoys light, airy vessels that won't compromise having dessert. 
Make Serious Eats' gnocchi; a pasta dish made easier and richer in flavor with ricotta.
As opposed to using traditional mashed potato, which Serious Eats describes as "far from foolproof.", trust this dish is quite the opposite.
Chef Steps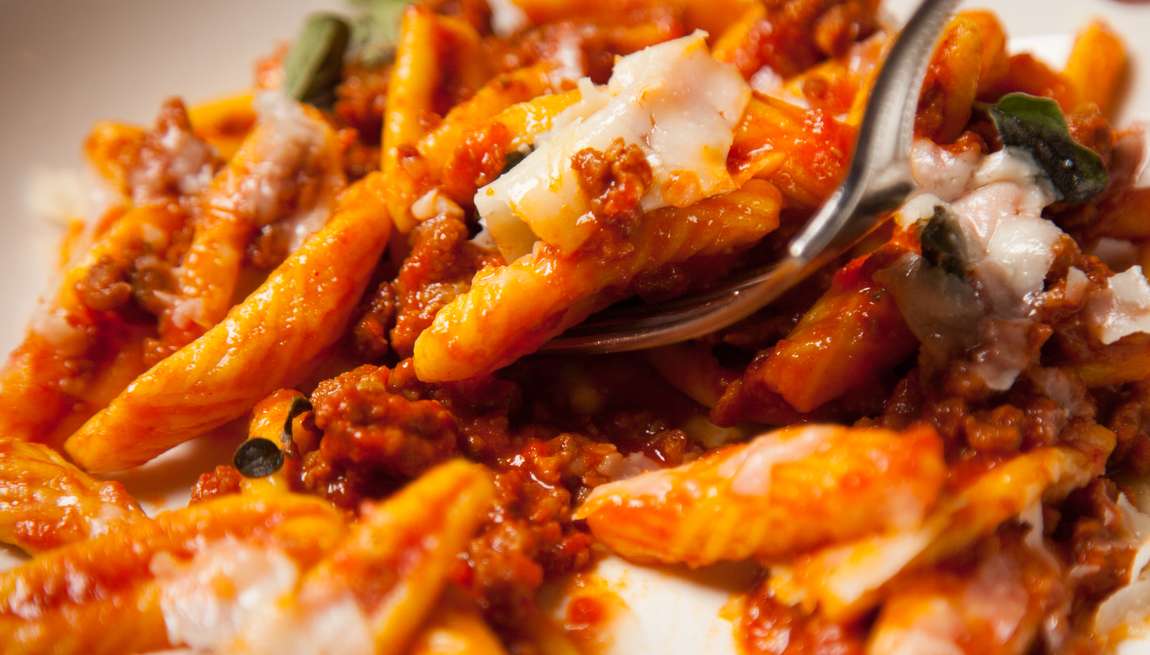 Do you revel in making your pasta from scratch? The Calabrian Sausage Ragu and Homemade Capunti will have you leveling up on V'day.
In this recipe, award-winning, Seattle-based chef Jason Stoneburner demonstrates how to make capunti for your big day.
Give yourself a generous amount of time for execution, but once finished, you'll have the satisfaction and talking point of a mouth-watering, hand-made pasta your date will drool over.
Even if it's not all perfect, it's the thought that counts.
Bon Appetit
Imagine: Standing over the stove, while you each take sips of your red wine.
A low fire keeps the pot simmering; the view of the sunset is off in the distance; the night has just begun. You look longingly into each other's eyes, you take another sip and turn to pour the rest into a perfectly al dente pot of noodles.
You're so sophisticated, so effortless.
And at the end of this special moment, you have a gorgeous, intensely-hued plate of red wine spaghetti and a little bit left over to continue the festive feel.
All there's left to do is shave over a little bit of pecorino.
Seafood
Byron Talbot
Byron Talbot uses classic techniques in this dish to give you the best of both worlds: fresh salmon and Yukon gold or russet potato.
In this video, he composes a complete salmon dish balancing acidity, fatty and rustic flavor profiles, and delivers beautiful plating all made with easily accessible ingredients.
Pinch of Yum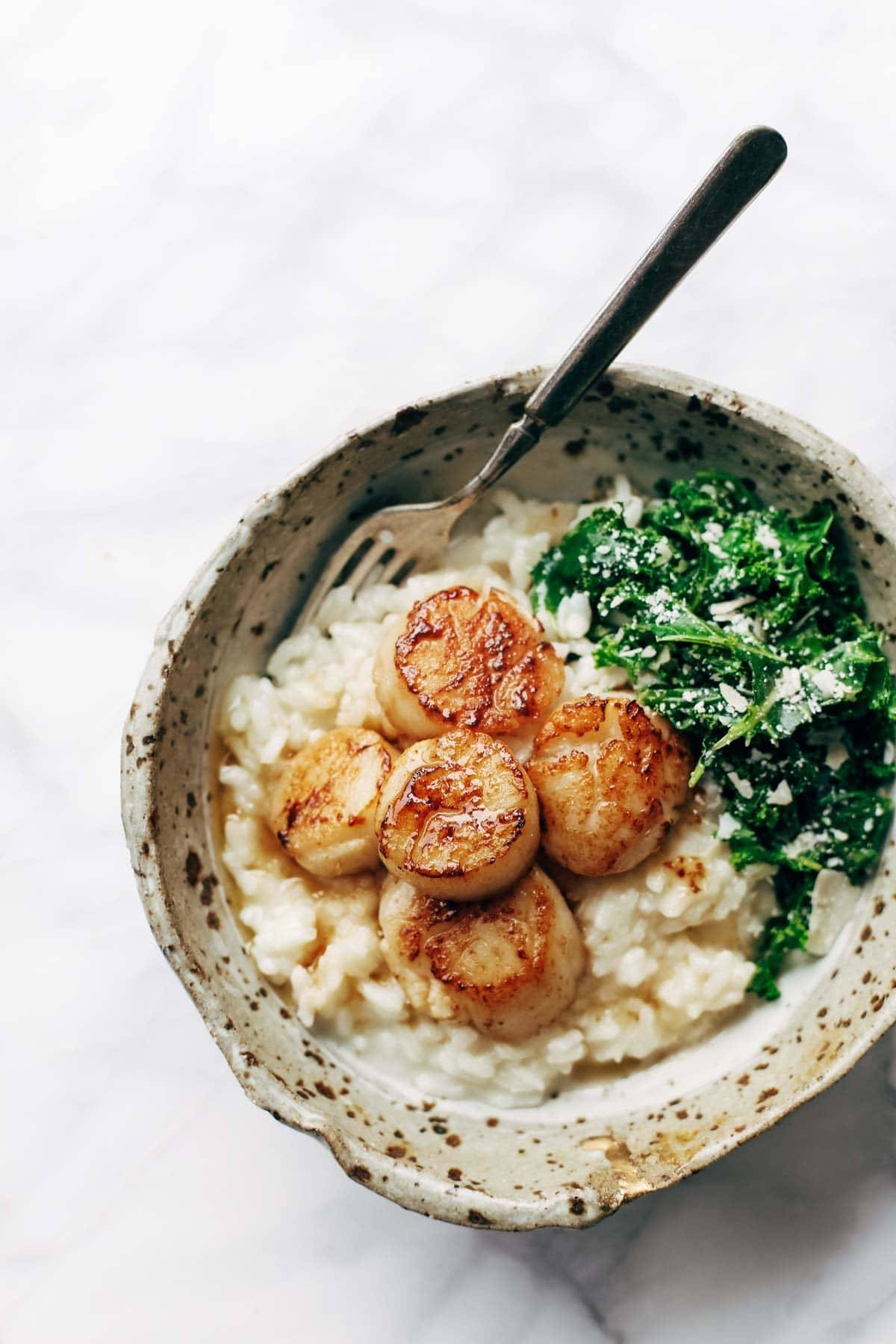 Like most people, I was intimidated by cooking scallops at home, but they are actually super easy and delicious. 
Don't be intimidated by scallops, a.ka. little plump morsels of delicious; scallops are not only easy to cook (use the clock method in a seething-hot pan for a golden crust), but they have a super delicious mildly sweet, succulent flesh.  
If you can, try and find dry scallops (wet have preservatives) at your local grocery store.
All you need is 10 minutes and a preferably a heavy bottom pan.
Vegetarian
Country Living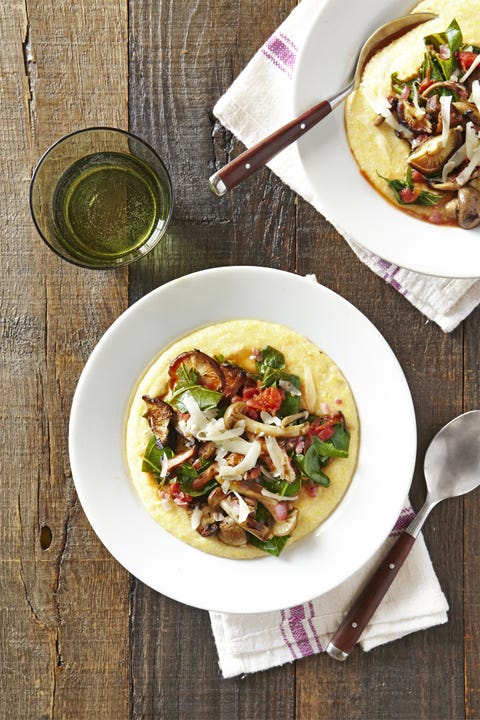 Polenta, with a dash of cream, is already a lovely combination.
But, in this recipe, Fontina cheese (a semisoft cow's cheese) adds a soft, mildly buttery flavor along with a punch of umami with mushrooms, and finally a little bit of southern with collards.
Jessica in the Kitchen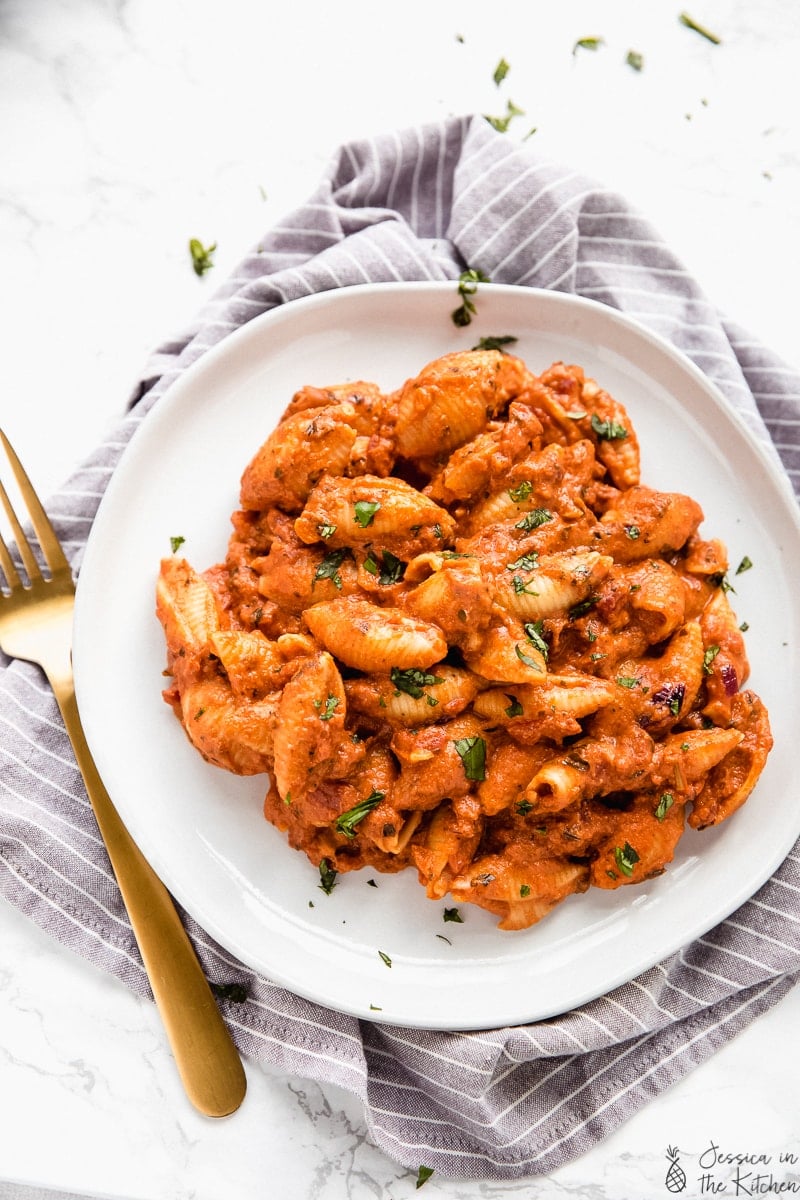 Jessica in the Kitchen's award-winning, flavor-packed recipes feature vegetarian eats –and even some vegan.
If your date is into pasta, but not the milky products used to create it, Jessica has whipped up a creamy, tomato pasta sans the cream.
Instead, she opts for an equally creamy sauce made with cashews.
Whisk it Real Gud
When I do have bisque — a creamy, flavor soup originating from the French– I usually have the preparation with infused with lobster, with chunks of lobster mixed in. 
But to make it vegetarian, Whisk it Real Gud adds a cheesy ciabatta bread for a taste resembling heaven in a bowl.
Easy, and intensely flavored, this bisque is filling, but still leaves plenty of room for a chocolate lava cake or creme brulee.
Dessert for Two
Add some spice to your evening, with Molly Yeh's rendition on shakshuka (aka eggs in purgatory), an Israeli dish using critical ingredients like eggs, harissa, Israeli couscous, and feta.
Bread is generally served in this dish, but her version uses the mentioned couscous, meaning you and your date can spoon-feed each other cake without guilt later. 
Chef Steps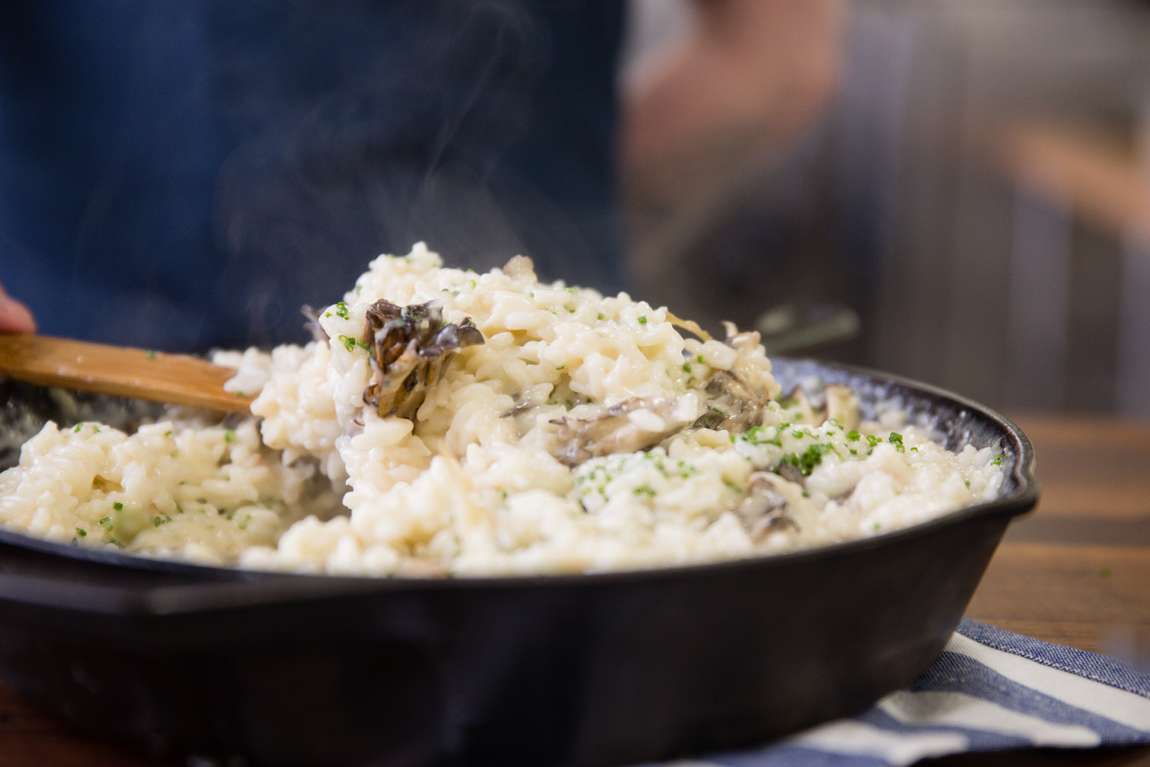 You're in for a luxurious treat with the guys from Chef Step's "creamy-steamy risotto" recipe; a fine-dining made easy at home, you'll savor to the very last forkful.
A recipe Chef Steps describes as "soothing and comforting, simple on its own but ready to be dressed up at a moment's notice," adding, "risotto can be the star of any dinner or play a sturdy supporting role."
You'll need a little bit of know-how — and patience– but risotto, a classically romantic dish, is a sure-fire way to set Valentine's night off right.
As a side dish, Chef Steps suggest any braised meat as the main, like chicken or beef; seafood, like sauteed shrimp, works as well.