October 16, 2020
Ever since Swizzler indefinitely wheedled their way on to my favorites list at Emporiyum, name-dropping them in a conversation about some of the best fast-casual food in the D.C. metro area comes without hesitation.
Reflecting on my first encounter, I'm disappointed I haven't mentioned them in this space sooner.
The word "iconic" comes to mind.
I remember seeing their sign as I squeezed through the crowd at Emporiyum.
Because I'd heard a domino effect of compliments from local admirers, I was insistent on one last stop even though I about capped my $50 budget.
I ordered the Feast Mode at their makeshift station; one of their grass-fed corkscrew beef hotdogs topped with candied jalapenos, housemade caramelized onion, goat cheese, and black pepper honey.
A dynamic, dynamite quadruple of local ingredients.
Talk about saving the best for last.
Coupled with their divine truffle fries, the local hot-dog-truck-later-expanding-to-burger-truck, that began as an entrepreneurship project made a strong first impression.
Want to know what the Feastmode tastes like?

Snappy, feisty, bursting with personality and depth; every bite makes me wish for just one more until I turn into a blow-up mattress.
The Feastmode is all of the smartest kids in class coming together to work on a class project.
And Jesse Konig and Ben Johnson did, at their alma-meter, Wakeforest University in North Carolina.
Fast forward a couple of weeks, and I'd say those snappy dogs filled with glorious toppings still interrupted my daily thoughts.
My only gripe was Swizzler was primarily a food truck.
Posting updates of their location on Twitter and Instagram, satisfying a Swizzler's craving wasn't as easy as ordering through DoorDash.
For those not working in or around the city, there was a certain level of commitment needed.
You had to check updates on Twitter or Instagram (Twitter unanimously the most reliable).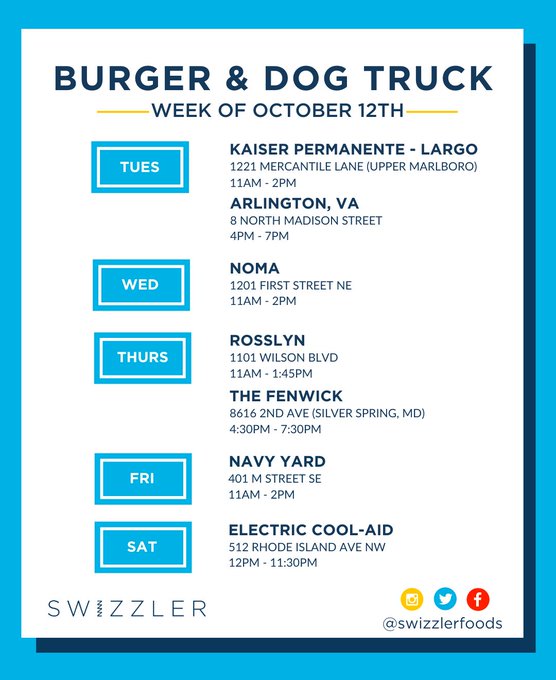 You had to wear public clothes. You had to drive.
And parallel park your car on some congested street and stand in line with the rest of the public, and if you were desperate enough, in the rain.
Or wait to spot them at a Farmer's Market.
But, met with the best customer service and eventually that glorious corkscrew dog, the trip to whatever location they posted was always worth the struggle.
But of course, I'd rather have a reliable, rememberable destination.
And now I can.
Eater spread the good cheer back in March: "Swizzler's Food Truck Burgers and Dogs Are About to Get Their Own Shop in Navy Yard."
Sounds too good to be true, huh?
If you haven't heard of waterside Navy Yard, it's the charismatic, hot-centered neighborhood in D.C., known for hosting several noteworthy restaurants — Chloe, Circa, Lavagna — and a cluster of new luxury apartments.
And most notably, the Nationals Park Baseball Stadium.
Like a perfect pairing, Swizzler occupies Taylor Gourmet's old stomping ground (1259 First Street SE) according to Eater, on the same strip home to Chipotle, Indian-based Rasa, Chopt, etc.,
A grand selection all situated within walking distance from Nat's stadium.
And let's not forget how convenient Navy Yard's central location along Anacostia River is for newcomers in Maryland and Virginia; right off of major highway I-295N for Marylanders and along I-395N, off to exit 1A for Virginian peeps.
What's on the Menu?
The Washington City Paper has reported Swizzler's menu is set to feature their signature corkscrew hotdogs, with plain ole' dogs too, those juicy, beefy burgers between brioche buns, grilled chicken sandwiches, and even veggie burgers.
In a short interview, co-founder Jesse Konig described their menu items as "fun nostalgic foods without the mystery meat."
And unlike most affordable fast-casual joints, Swizzler's mission, as Konig continued, is to "bring a sustainable twist to the fast-food American classics" by creating a foundation centered around transparency.
Originally, the grand opening was scheduled for late-spring, but now we're looking to Mid-October.
The countdown continues…